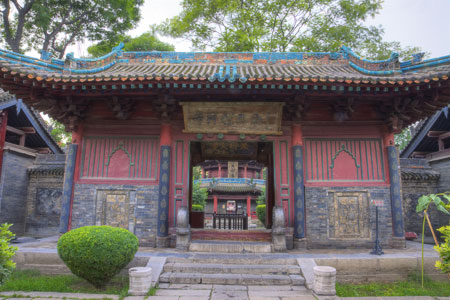 The Grand Mosque of Xian
Portraits by Shahbaz Anwar & Saima Akhtar
Built in the Tang dynasty in the 7th century, it is said to be one of the first mosques in China. Located in the middle of the Muslim Quarter in Xian, where over 70,000 Muslims live, it is an oasis of tranquility.
To get to the prayer hall, I had to walk through a sprawling complex of lush gardens filled with cobblestone pathways and pools of water lilies to the background of birds chirping. The mosque grounds, covering an area of over 13,000m2, were built with the aim of allowing the worshipper to empty his mind of worldly distractions. There are five main courtyards, each with a signature pavilion and old stone archways inscribed with both Chinese and Arabic lettering: "May the religion of the Pure and Real spread wisdom throughout the land" and "The mosques are the markets of the afterlife."
In the centre courtyard, you come across the Pavilion for Introspection, with a 10-metre brick tower that serves as a minaret. Three stories high, the tower's eaves are decorated with blue glazed tiles and carved dragonheads.
Source : http://www.emel.com/article?id=77&a_id=2151